An extremely inviting alternative to the sunny beaches of Antalya is represented by Dolphinland, an increasingly popular attraction which draws the interest and the curiosity of both locals and tourists. Dolphinland has made its way through in the world of amusement parks by the several dolphins, the couple of white whales and sea lions performing their regular shows for the thrill and satisfaction of visitors of all ages.
Children are the ones who appreciate and enjoy the most the presence and the spectacle put on by the lovable sea mammals. This is precisely why Dolphinland is highly frequented by families. However, this park is not conceived exclusively for the joy of the little ones. On the contrary, grown-ups can just as well discover the beauty of these mammals and of their representation, sliding back and rediscovering the intensity characteristic of all childhood experiences.
Moreover, being a visitor of Dolphinland does not come down to simply seeing and contemplating the performance of dolphins, whales and sea lions. On he contrary, visitors have the opportunity to swim with the dolphins, an activity which is proven to have an extremely benefic impact on the learning skills of those who choose to enjoy in this more dynamic manner the company of the lovely sea mammals. Swimming with dolphins, for that matter, is known to stand out as a genuine therapy for a series of disorders, which enhances the reasons for coming and visiting Dolphinland.
Given that Dolphinland belongs to the same complex as Aqualand, one can easily conceive the ideal formula of spending a day in Antalya: beaches, sun, impressive water slides, cool pools and, finally, the unforgettable meeting with the dolphins in Dolphinland.
Dolphinland is located in Dumlupinar Bulvari, Konyaalti Korulugu Yani, Antalya, Turkey. Further information can be obtained at telephone number: 90 0242 249 0900.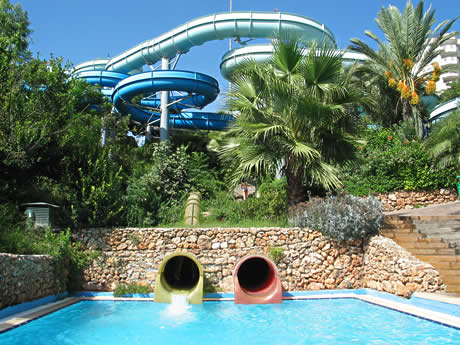 Go to top