Historic and cultural relevance aside, from a tourist point of view Antalya comes down to never ending sunbathing and swimming. But could the pleasurable experience at the beach be taken to a whole new level of fun and excitement? The very concept of Aqualand has been put forward precisely in order to make the best of the sunny Antalya. This complex of up to 100 meters long water slides, huge swimming pools, pool bars, restaurants, shops and other facilities and services enhances an ideal day spent at the beach complemented by the comfort offered by the many aforesaid amenities.
Tourists and locals alike prefer Aqualand for the thrill they can get out of enjoying the water slides and the cooling pools available in one of the largest thematic water parks in Antalya. Everything in this park actually revolves around the splendid and inviting water amenities in view of enriching the many water related activities. Mere swimming can be a transitory leisure activity which turns the thrill of a ride on a slide into a soothing water massage at the Jacuzzi Bar in Aqualand. The numerous safe boxes and changing rooms in this water park are meant to bring a touch of comfort and a feeling of security to all clients choosing to spend a day in Aqualand. In addition, the permanent presence of several lifeguards increases clients' opportunity of experiencing a day without a care in the world. This is precisely why Aqualand is a perfect option for both friends and family getaways: children's numerous and natural capers are carefully looked over by the staff.
Moreover, in the event one happens to forget their essential outfit and accessories, the shops around the park may prove to be at hand and, if in the mood for a little more in terms of shopping, the silver market in Aqualand represents a wonderful opportunity. But a day at the beach could not be complete without a nice meal or snack meant to make clients recover their strengths. This is why the poolside restaurants and snack bars offer a good selection of international and local cuisine, to please all tastes and whims one can think of in a hot summer day.
The Aqualand water park is located in Dumlupinar Bulvari, Konyaalti Korulugu Yani, Antalya, Turkey. Further information can be obtained at telephone number: 90 0242 249 0900.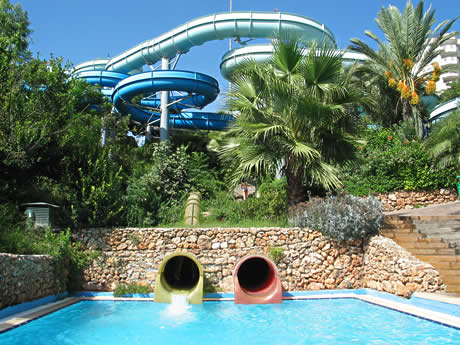 Go to top