All inclusive holidays are a definite solution for those who want to make the best of their vacations by letting others to search for the perfect formula of services implied in the concept of ideal getaway. Antalya is the kind of resort where all inclusive offers flourish as a result of the solid infrastructure of hotels and resorts putting forward excellent package deals.
Thus, the leading resorts in Antalya in terms of all inclusive offers are, just to mention a few, Cornelia Diamond Golf Resort, Delphin Palace De Luxe, Hotel Su Sesi Deluxe & Spa, Concorde Resort & Spa, Spice Hotel & Spa, Calista Luxury Resort, Ela Quality Resort, Gloria Hotels & Golf, Voyage Belek Select Hotel and Lykia World & Links Golf, though Dedeman Hotel and Ozkaymak Falez Hotel should also be mentioned.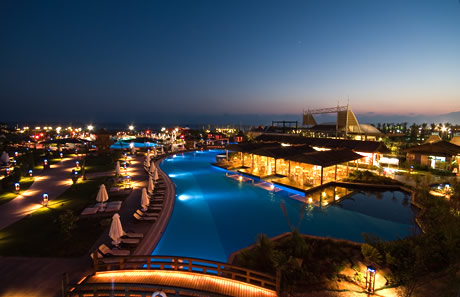 Accommodation proper is offered by any of these resorts and goes without saying, being at the same time made in conditions which comply with literally the most demanding tourist standards. Luxury is the very concept which describes the accommodation services delivered by such resorts and hotels. All the other services blended in this formula of package deals refer to, for instance, meals, drinks, entertainment, and all sorts of facilities enabling the carrying out of activities ranging from conferences to massage, spa or golf playing.
Cornelia Diamond Golf Resort and Hotel Su Sesi Deluxe & Spa offer great conference centers, whereas Ela Quality Resort and Lykia World & Links Golf take pride in knowing how to keep children busy by means of their specially designed facilities, having at the same time a policy of services free of charge for underage clients, though the age limit varies from one hotel to another. The finest restaurants owned by these resorts complement the canny experiences one can get while spending time on the finest beaches in Antalya (most of the time owned by the respective all inclusive resorts), at spa or in the fitness area. However, tourists should carefully look into details: depending on the chosen resort, certain services may be charged or, at least, charged under certain circumstances.
Go to top